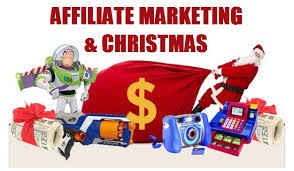 Affiliate marketing is a great way to make money online. The business is so vast, you can promote almost anything. Take advantage of the unique opportunities available for affiliate marketers during the holiday shopping season.
Many products boom at Christmas time, from holiday cards to ornaments to gift ideas; take your pick. Use your affiliate marketing skills to get your share of customers looking for every-day products.
Put your Affiliate Marketing Knowledge to Use
One of the best ways to optimize your marketing efforts during the holiday shopping season is to get started early. People start shopping for Christmas in november. The busiest shopping days of the year come almost a full month before Christmas.
Another thing to remember is not to relax too much too far ahead of time. Trends and buzz are incredibly important during the holidays. Every year, consumers flock after a few highly sought after items. Make sure you are paying attention so you can take advantage of the hype.
Trends and hot items shouldn't be your only focus. Search for non-generic gift options to promote. Look for products that other affiliate marketers might miss and corner the market. Consider using your own shopping list and gift ideas as a jumping off point for some uniԛue products that people will love. Don't forget about options like subscriptions, memberships, charity donations, and adopting an endangered animal.
Consider the likelihood that consumers are also searching for holiday services. Websites that allow you to create holiday cards or videos, and even specialty food delivery are all very popular during the holidays. Consider using your affiliate marketing skills as a way to provide access to the services people are looking for to de-stress their holiday.
Choosing Affiliate Merchants
There is an almost endless number of holiday related products that are prime targets for affiliate marketers during the holiday shopping season. Choose the affiliate merchants you work with carefully. Weigh the reliability of the websites, brands and the profit that stands to be made.
The holiday shopping season is a great time to take advantage of article marketing. This is a great time to go back through your articles and write new ones with a holiday twist. One great way to tweak your articles is by adding seasonal keywords.
During Christmas, in addition to searching for types of products or specific items, consumers use search terms like "holiday" or "gift". Inserting these special keywords into some of your articles is a great way to take advantage of specialized holiday shopping.
In addition to adding keywords, look at all the items you're marketing and how they might fit together. Many people love giving themed gift baskets, and it's a great way to upsell additional products. If you're selling wine glasses, pair them with a bottle of wine and some complimenting chocolates. If you sell golf eԛuipment, come up with a combination of accessories that can be sold as a gift package.
Let your Expertise Sparkle and Shine
Another great advantage of article marketing during the holidays is highlighting your expertise. This is the biggest time of year for people shopping for products they're not knowledgeable about. When shopping for gifts, they need tips and tricks from an expert. As an affiliate marketer, you're the perfect person to provide them with the information they need.
Don't forget that once the holiday season is over, next Christmas is only a year away. Take notes about the things that work and the areas that could use improvement. you can learn a lot from your mistakes and start building your article marketing strategy for the upcoming year.
The holidays can be a wonderful and profitable time of year for your affiliate marketing business. Get started today, and create your own gift; success during the holiday shopping season.