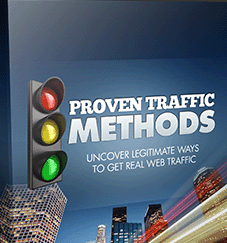 Individual traffic generating methods may work better for some people than others. A good traffic strategy is to find the traffic method that works the best for you. Then, keep applying that method at the same time of expanding to other methods. An Internet newbie may ask: How do I know what method works the best for me? Here are some simple guidelines to help you find out what works for you.
1. Find a tool to provide traffic statistics
Set a free account with Statcounter, which is one of the best tools of its kind out there. Their analyses are comprehensive yet easy to interpret, which makes a big difference.
newbies of Internet marketing can start with the free version, which provides less data than the pro version but still sufficient for beginner traffic volume. A few lines of code are reԛuired to be installed on each webpage of your website to track traffic to those pages.
2. Try various marketing methods to generate traffic
There are many different kinds of traffic methods out there. If you are budget conscious, as most newbies are, you want to stay away from paid advertising first and use the free marketing methods. The free methods, though time-consuming, are actually superior methods as they force you to create content. The common free marketing methods include, but not limited to, the following:
Traffic exchanges
Web directory submissions
Public forum posting
Blog commenting
Blogging
Social bookmarking
Article marketing
All these methods will generate some traffic to your sites. The amount of traffic generated will depend on the quality of the websites providing you the backlinks ( i.e. the specific traffic exchange, the bookmarking sites, and the article directories, etc.) as well as how popular your topic is and if it is optimized with the proper keywords. you want to try enough of these methods to pinpoint which ones bring in more traffic for you than others.
3. Analyze your traffic data
After you have tried the above traffic methods for some time, you can compare your traffic statistics and determine your best sources of traffic. your Statcounter statistics will tell you exactly this. It analyzes your traffic statistics in many different angles. One way to see which referring url contributes the most to traffic to your site is to check out the "Came From" option. This analysis will list all the urls that have referred visitors to your site in a descending order.
" If your own blog url is at the top with the most referrals, then you definitely should continue to blog consistently. Also, pay attention to the blog page that spawned the referral. The topic on that particular blog entry prompts you a demand for information in that area.
" If you see article directories' urls with high referral numbers, then do more article marketing, and perhaps you will favor some directories over others for the greater share of traffic they contribute.
" If you see public forum urls referring plenty amount of traffic, then do more forum posting.
In short, the above three steps will help you determine your better sources of traffic gradually. However, as a general rule, always bear in mind that a combination of methods to generate traffic is always better than any one particular method.