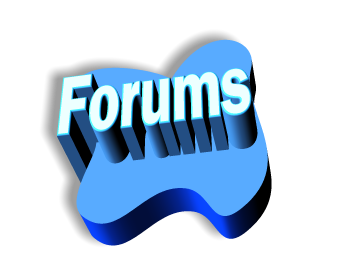 One of the methods that online marketers use to generate traffic is forums. This method is considered one of the most efficient methods. The volume of traffic generated by this method is considered one of the largest in online marketing.
Forums are places where a participant can receive and give useful information for free. you can get new ideas that will enhance your knowledge and you can pass your own ideas to other members as well.
The first thing that you need to take into consideration when you join a forum is the right selection of the forum. you should pick a forum that have a big number of active members. Do not concentrate on the number of members only. What is important is that these members should be active. This way your participation would be viewed more, which will result in more clicks to your website.
After selecting the right forum, be very careful not to try to sell your product directly through posts. As strange this might seem but this is a pitfall that a lot or participants fall into. Many new users to forums think that since they have the freedom to say what they have in their mind then they should take advantage of it. So, they start posting the links which will direct other members to the products that they are selling. Whenever the members see a sales pitch they will have an idea that this is another guy who is heading to our pockets. your contribution will be diminished and your traffic will drive away.
It is true that when joining a forum the ultimate goal of online marketers is to drive traffic, which is other phrase to generate sale, it should not be done directly in the post itself.
While making a post, whether it is a reply to an existing thread or starting a new thread, focus on posting useful information that will be of interest to as many members as possible. Useful is the keyword here. Members to the forum should find the information provided by you of genuine benefit to them. The information that you provide them should solve a problem that they are facing or enhance their knowledge of a certain topic.
This way you will be able to build trust within the members. It is this trust that will generate the traffic (revenue) that you are after.
Every post that you make will have the signature file attached to it. This signature file will take care of your promotion.
Besides telling people about what you are promoting, signature files provide a link to your website. If the information that you have posted is useful to the participants then by all means they will have interest to check your signature file to find more information about you and your products. Mission accomplished, traffic is generated.
How much time you spend on your forums is entirely up to you. It is unnecessary to participate in hundreds of forums to generate the traffic that you need.
Concentrate on participating in limited number of forums. This way you will have more time to participate in each of your forums.
Make it a habit to visit the forums that you have subscribed to on a daily basis and to have as many posts as possible. Also make it a habit to start a new thread every week.
The opportunity to generate traffic through forums is huge. Following the ideas mentioned in this article will guarantee you success in this field of online marketing.
How would you like to learn the best way to drive traffic and market on forums?