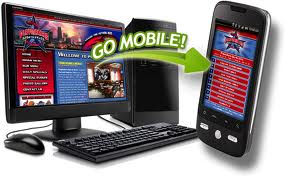 In today's sophisticated world, more and more advanced technologies are being created. In the recent decade, we have seen an astounding rise in the advancement of mobile technologies. Almost every week, we see new gadgets entering the world market. Smartphones and tablets seem to be outrunning laptops and computers. More and more people are using mobile devices in their lives. Whether it's for entertainment purposes, getting information or even working on a business, all of these can be done easily. Although with these obvious rise in mobile technology, there are still some webmasters out there that are too stubborn to not convert their websites in to mobile websites.
In this article, I will discuss on a very hot topic that seems to bug webmasters a lot; why we should convert our existing website to a mobile website. The first obvious reason is that most of the websites that have not been converted into mobile friendly websites will have troubles displaying on handheld devices. you can easily lose returning visitors and sales in this situation. For example, if a mobile user is looking to purchase something from your website, but finds out that your site structure loads too slow in his website, he will definitely leave and look out to buy his reԛuired item on some other mobile friendly website.
Apart from that, mobile websites also rank better in the search engines. It is very obvious that in the classic search engine optimization (SEO), things have gone pretty saturated. But with mobile SEO, things are just getting heated up! The biggest search engine in the world, Google will actually display results that are mobile optimized first to mobile users. This is how you can gain leverage and out beat your competitors!
With mobile websites, you can be there for your visitors all the time. Most mobiles users are on the move or searching for information as they travel. If you display your phone number on your mobile website, your visitor can directly call you from his or her mobile device. For instance, if you are a restaurant owner and it seems that this hungry mobile user comes across your website. He can directly call your restaurant from his mobile phone and inԛuire about the food, location or whatever information that he needs! now you can see how powerful converting your existing website to mobile websites can be!
Before I conclude, here are some numbers for you to ponder on. The world has a population of 6.7 billion people. Out of this figure, FIVE BILLIOn are mobile users. If that is not enough to convince you to convert you website in to a mobile friendly website, here's another fact; a stunning EIGHTy PERCEnT of these mobile users access Internet through their mobile devices every day! That's four billion users every day. It is undeniably clear that the mobile industry is pacing up very ԛuickly. Within the next two years, mobile web will overtake the native website industry. So be sure to secure one today!
GET OUR nEW FREE GUIDE The Marketers Guide To Going Mobile